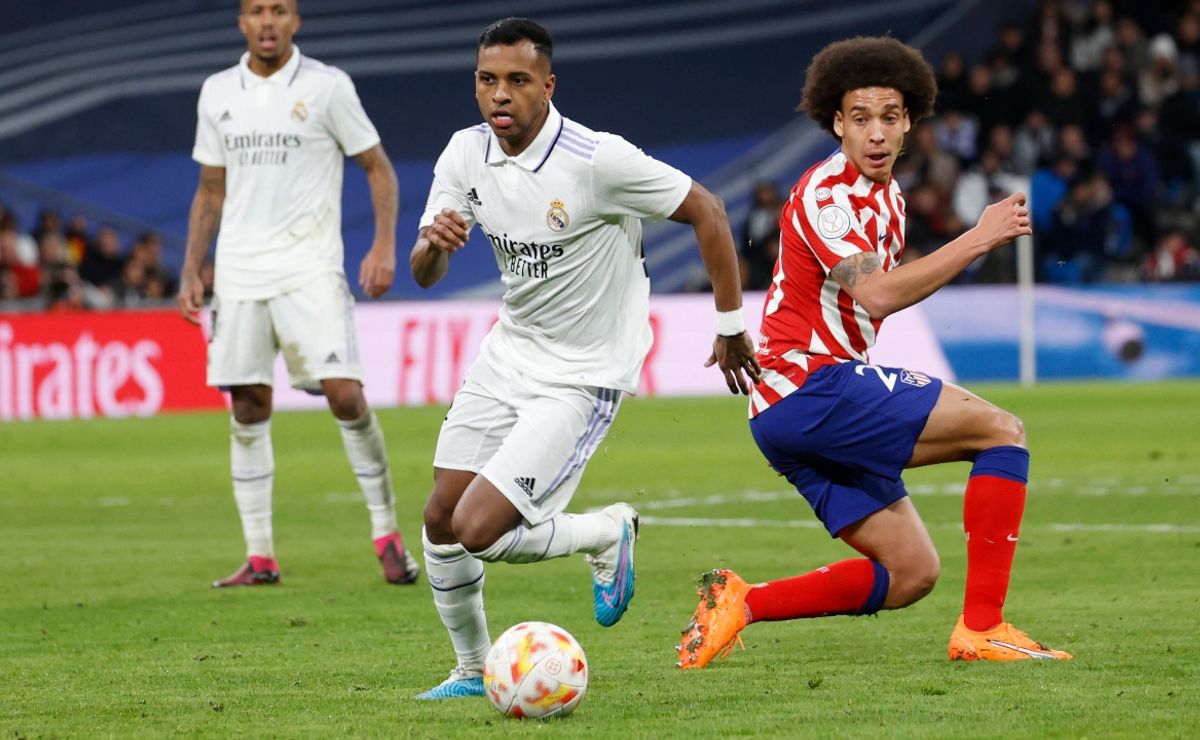 Real Madrid returned after beating Atlético Madrid 3-1 in the Copa del Rey quarter-finals on Thursday. Madrid his derby is historically one of his fiercest rivals in club football.
Thursday's game did not disappoint. The match featured three excellent goals and a red card.
The pre-match hype for the big game was undermined by an incident from some Atleti fans. Right-wing Ultras hung a doll wearing Vinicius Jr.'s jersey from a bridge near Real's training ground.
Morata scores again for old team
Atleti scored a goal within the first 20 minutes to take the lead in the game. Koke played a perfect lob his ball over the backline of Real's defense to the looming Nahuel his Molina. Argentina Worlds his cup winner Alvaro squared his straight pass to Morata and finished easily. It was his first away goal in a derby for Madrid since 2018 and his goal for a team that has worked beautifully for the visitors.
The goal was Morata's third strike in seven games against his former club. He also scored goals in both legs of the semi-finals of the Champions League against Real while playing for Juventus. Morata played a total of 95 games for the club in two separate stints.
Real's injury woes only got a little worse when Ferland Mendy was forced off the pitch. Midfielder Dani Ceballos entered the defender's fray, with Eduardo Camavinga switching to the left-back position. Carlo Ancelotti's team is already without David He Alaba, Dani Carvajal, Aurelian Chuameni, Eden Hazard and Lucas Vazquez.
Rodrygo scored in the Madrid derby at the Copa del Rey
The hosts applied pressure in the second half and finally found a breakthrough in the 79th minute. Substitute Rodrigo scored an incredible solo goal after breaking into Atleti's box to level the scores.
At the final whistle, the score was tied 1-1, and the game went into overtime. Atléti's chances to advance plummeted in the 99th minute. Center back Stefan Savic received a red card for a simply ridiculous challenge while wearing a yellow card. With two yellows within two minutes, Atlético beat one with the remaining 20 minutes.
Benzema and Vinicius put the finishing touches on Atleti
Real star striker Karim Benzema put his side ahead after just five minutes. The France international had a well-placed shot between Jan Oblak and the post after the ball landed on him in the box. Benzema's 13th goal of the season.
Vinicius, the target of racist attacks from a small group of Atlético supporters, exacted revenge to freeze the game. Another Brazilian who scored his goal in a spectacular solo at Real Madrid, Ross scored his third goal for his Whites. The magician coolly passed Oblak after a labyrinthine run through Atlético's defense.
The 19-time Copa del Rey winner will face Osasuna, Athletic Club or rivals Barcelona in the semi-finals.
PHOTO: IMAGO / LAGENCIA